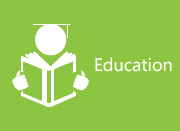 Education
Donation of Educational Facilities
To nurture children to be the future of our country, the Trust has sponsored numerous projects in the Mainland to build schools and educational facilities in needy areas through the Hopeful School Project. With well-structured programs and improved facilities, results of educational programs become more effective.
• Built over 10 Hopeful Schools and educational facilities.
• Sponsored clean water projects, school canteens, and dormitories.
• In 2018 and 2019, the Trust donated more than 6,000 readers to a primary school in the Mainland to promote reading.